L'excellente application télécommande Unified Remote est disponible gratuitement ! Une télécommande ultra-complète pour contrôler votre PC à distance avec votre mobile, via Blutooth ou WiFi. Utile pour regarder des séries sur VLC par exemple. Une seule télécommande pour contrôler des dizaines de logiciels.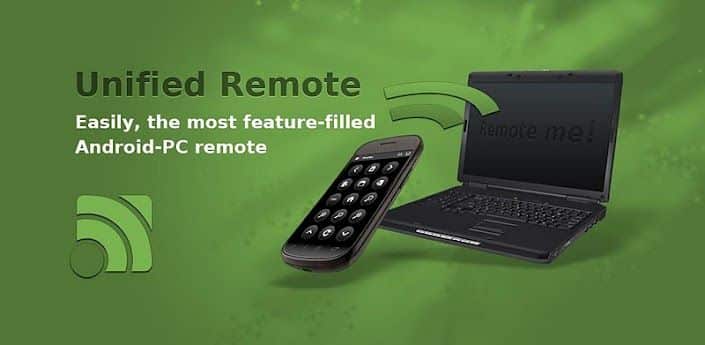 La description officielle :
Easily the most feature-filled Android-PC remote. Turns your Android device into a WiFi or Bluetooth universal remote control for your Windows PC. Control your favorite programs, mouse, and keyboard.
DOWNLOAD SERVER
https://www.unifiedremote.com
SUPPORT
https://www.unifiedremote.com/support
https://support.unifiedremote.com/
FEATURES
* NFC actions (full only!)
* Custom Remotes (full only!)
* WiFi (TCP/UDP)
* Bluetooth
* Easy server and app setup
* Comprehensive server manager
* Automatic server detection
* Clear connection troubleshooting
* Custom/Android keyboard support
* Single/Multi touch mouse
* Hardware volume control
* Quick Switch using swipe gestures
* Quickly change servers
* Auto-pause media for phone calls
* Homescreen shortcuts to remotes
* Wake On Lan
* Server password protection
* 256-bit AES encryption
* Voice commands (full only!)
REMOTES IN FREE AND FULL VERSION
* Basic Input
* File Manager
* Keyboard
* Media
* Power
* Slide Show
* Spotify
* Start
* Task Manager
* Windows Media Center
* Windows Media Player
* VLC (Keyboard)
* YouTube
REMOTES IN FULL VERSION ONLY
* Custom Remotes
* Boxee (Keyboard)
* Boxee (Web)
* Chrome
* Firefox
* foobar2000
* Hulu Desktop
* Hulu Web
* Internet Explorer
* iTunes
* J River Media Center
* Monitor
* Media Portal
* MediaMonkey
* MPC HC
* Netflix
* Opera
* Pandora
* Picasa
* PowerPoint Advanced
* PowerPoint Basic
* Send Text
* Spotify Advanced
* Tellstick
* Tellstick Live (new!)
* USB-UIRT Helper
* Winamp
* Windows Photo Viewer
* VLC (Web)
* XBMC (Keyboard)
* XBMC (Web)
* XBMC Media
* XBMC Advanced (new!)
PERMISSIONS
INTERNET: for server connection.
BLUETOOTH: for server connection.
WAKE_LOCK: for optional wake-lock.
READ_PHONE_STATE: for auto-pause.
ACCESS_WIFI_STATE: for server connection.
VIBRATE: for optional haptic feedback.
ACCESS_NETWORK_STATE: for server connection.
NFC: for NFC actions.
INSTALL_SHORTCUT: for launcher shortcuts.
CHECK_LICENSE : for licensing checking.
E-mail us if you have any questions about the permissions required.